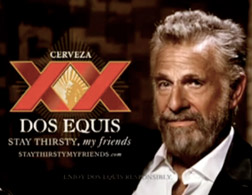 Slate article discusses my favorite ad campaign (perhaps of all time), The World's Most Interesting Man, who seems related to Seinfeld's J Peterman. 
I'm so enthralled by the Dos Equis campaign that I'd love to buy a book about this mysterious personage and I would not be surprised if such a book was published. We're talking about a guy who has been the Best Man for several weddings and he was unknown by the grooms. 
Until such a book, if any, comes out, I'll have to refer the The Dos Equis Guy. 
Another site, Eat Me Daily, keeps all the video ads.