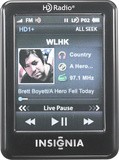 I bought this new model the day it became available at Best Buy.
The receiver looks nicer than the prior model, and I found the controls easier to operate with the touch screen too. However, actual performance was still very annoying with frequent enough dropouts of the HD signal to make listening a real pain.
There are quite a few HD FM signal audible here in the greater Seattle area, but despite the strength of the signals the dropouts are as bad as the prior first-gen Insignia HD radio. Sadly, this one went back to the store for a refund. I really wanted to like it..