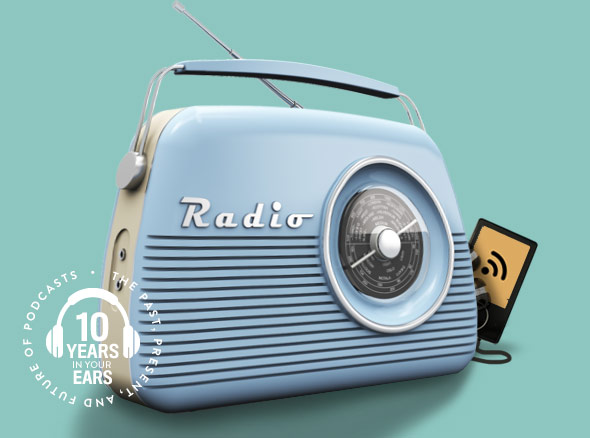 So writes Seth Stevenson in his Slate article "Don't Count AM/FM Radio Out Just Yet." Slate this week is posting articles surrounding the podcast's ten-year anniversary. 
Here we read why the Internet will someday conquer the radio:
The reality is that the Internet will win out, sooner or later. There's no stopping it. Though the audience for audio has been growing overall, nearly all that growth is happening online. For good reason: Online you can fire up your favorite podcasts whenever you please—instead of tuning in and hoping against hope that something you'll like is on. There's much wider variety to be found on the Web, with thousands of niche programming choices—instead of a mere 30 stations on your FM dial. From the point of view of a person recording a podcast in her garage, it's a breeze for her to distribute audio content over the Internet, with little in the way of startup costs. Like, for instance, she needn't erect an enormous radio tower.
But there are also reasons to believe radio will survive for years to come:
Of course, that garage podcaster will suddenly be smacked with huge data costs if her show becomes a hit. For this and other reasons, radio engineer and activist Pete Tridish predicts that terrestrial radio will always have a useful role to play. Tridish got involved with small-scale radio operations out of frustration with the consolidation that happened after that 1996 telecommunications deregulation. He helps engineer over-the-air operations for rural communities, groups of farmworkers, and such, sometimes placing small broadcast towers on the tops of buildings. When I spoke to him, he was about to help establish a station for a Navajo college in Arizona. "Just because we have word processing now doesn't mean there's no place for the pencil," he says, "and just because we have the Internet doesn't mean there's no place for radio."
He suggests a few reasons why terrestrial radio will stick around for a long time:
Most of us don't feel the cost of the data we're using when we stream online content. But this could be changing. "Half the public still has no idea what data metering is," says Smulyan, "but we find it changes consumption completely when people see what they're paying for the data they use."
Due to some complex legislation, it can be less onerous to pay artist royalties when you play music over the airwaves than when you send it over the Internet. For this reason, last year Pandora bought an FM station in South Dakota, in an effort to qualify as a terrestrial broadcaster.
When the revolution comes, radio will be vital for the propagation of seditious content. It leaves no digital footprints. And the NSA is unlikely to hack into your transistor boom box and track what you listen to.
When the zombie apocalypse arrives, radio will save your hide. Anyone with a generator and an antenna can broadcast radio, and everyone listening hears the same key information in real time.